Novus Sealing SA invests in state of the art Technical Training Systems - combining practical input with computer based output
Major hazard sites are industrial sites that manufacture, process or store dangerous chemicals and substances in quantities that could pose a risk to workers and the general public in the vicinity of the site and the environment in the event of a major accident. This includes fires, explosions or incidents in which dangerous substances are released.
With an industry-first Training Rig, Novus Sealing SA now offers:
Training available at Novus Sealing SA or Customer site
Increased Safety Performance
Plant Integrity and Asset Reliability
Ensuring:
Staff employed by Novus Sealing are trained to international best practises
Assess performance and properties of various Fluid Sealing materials
Challenge:
Test data shows that the bolt stress developed by an average mechanic using the appropriate combination wrench is a function of bolt diameter.
Mechanics tend to over-stress smaller bolts and under-stress larger bolts.
Understanding Gasket Response to the Applied Loads:
Gasket responses to overloading
Inward Radial Buckling
Assembly Practices
Gasket Seating Stress
Relation to Bolt Load
Evaluating Different Gasket Types and Designs
Course Objectives:
The course delivers the theoretical and practical elements involved in the Hand Torque tightening of Bolted Connections and provides an assessment of the delegate's competence in applying these procedures.
It covers the selection of components for the various types of flange connections found in the Oil and Gas, Petrochemical and Processing Industries materials focusing on gaskets/sealing elements and bolting materials.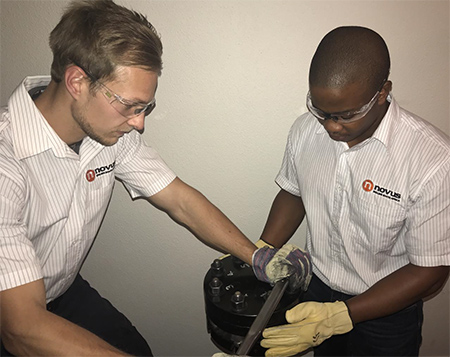 Should you require any further details you are more than welcome to contact us.
Kindest regards,
Shaun Snyman
Regional Manager
Novus Sealing SA